---
YBK Publishers selects the books it publishes based on solid scholarship.
For manuscript consideration please follow this link.
If you would like to learn more about YBK Publishers, please click here
To read about YBK author experiences, click here
To return to our Catalog of Published and Soon to be Published Titles, please click here
---
Music Category
---
the new BEATS redux:
exploring the music, culture, and attitudes of hip-hop
2017 Updated Edition
by S. H. Fernando Jr.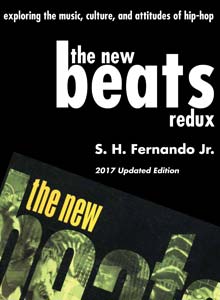 With a mix of in-your-face journalism . . . and a knack for communicating musical sound through the written word,...Fernando has created a fast-paced oral history that will prove important even when the dust settles from this still-developing form.
—Publisher's Weekly
Fernando has written an excellent social history of hip-hop culture . . . and rap music . . . . He also discusses the prominence of gangs in most urban areas and the music's unique expression of contemporary urban experience. Fernando outlines the role of rap as a chronicle for youth culture and uses examples to demonstrate the pleas of many rappers for a more humane, cooperative, less violent, Afrocentric community.
—Library Journal
Early 20th Century Opera Singers:
Their Voices and Recordings from 1900-1949
by Nicholas Limansky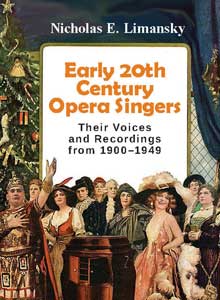 Historical recordings by opera singers have proven since 1900 to offer much reward to the singer, student, listener, and collector alike.
In the first book of this kind to appear in decades, Nicholas Limansky explains why critical listening is important and describes the merits of analyzing and comparing the recordings of previous generations of singers with those of the present. He also recounts how markedly record collecting has changed through the decades—especially in large cities like New York—mainly due to technological advance. He not only treats collecting 78 rpm disks, but LPs and CDs as well.
Expired copyright now enables many of these early recordings to easily be acquired and collected, enabling the broad-scale comparison of style, technique, and vocal quality among the famous performers of earlier eras. The author points out what to look for among these differences in style, technique, and ability—both good and bad. (On occasion, the most famous are not the best!)
With emphasis on today's student and collector, Limansky provides information about where, how, and on what labels given recordings can be found. He discusses printed resources that offer the interested even more information. Beginners and veterans alike will find much of interest in this far-ranging book.
Nicholas Limansky studied voice at Peabody Conservatory in Baltimore and has a performance degree from the University of West Virginia. He has sung with major professional choral groups in New York City that include The Bach Aria Group, Musica Sacra, New York Choral Artists (NY Philharmonic), Opera Orchestra of New York, The Netherlands Ballet, and Alvin Ailey (Revelations, Rainbow).
He has written performance reviews that appeared in the Italian publication, Rassegna Melodrammatic, and reviews new vocal releases of historical singers for Opera News, The Record Collector (in existence since 1946), Classical Singer, and Opera Quarterly. He lectures at the New York Vocal Record Collectors Society and a member of its board of directors.
He has authored a career overview and critical analysis of the 1950s Peruvian singer, Yma Sumac— Yma Sumac: The Art Behind the Legend—published in May of 2008. He is working on a third book, an examination of the differences in listener value between operatic live performance and commercial studio recordings.
Please address an email to info@ybkpublishers.com to learn about the forthcoming supplement or CD-ROM.
Personal Trainer (Volumes 1-5)
A Keyboard Musicianship Enrichment Program
by Paul Sheftel and Phyllis Lehrer (MIDI files are free with the purchase of this title, and sent separately)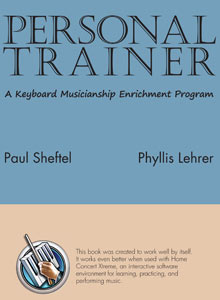 Personal Trainer is a training program offering musical workouts and enrichment activities for piano students of many ages and skill levels. The overall structure consists of five books, each containing four sections dealing with specific issues. These four sections are entitled:
Explorations
Eye-So-Metrics
Foundations
Repertoire
We believe the development of technique, sight playing and analytical skills are part of an integrated approach to total musicianship; all are stepping-stones to aesthetic expression and musical understanding. We want our students to feel comfortable as they learn to hear what they see, see what they hear, and grow in their understanding of the building blocks of music. Those, simply stated, are fundamental goals of Personal Trainer.
Foundations
A Keyboard Musicianship Enrichment Program
by Paul Sheftel and Phyllis Lehrer (MIDI files are free with the purchase of this title, and sent separately)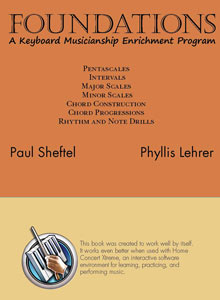 Foundations derives from a larger project entitled Personal Trainer, a keyboard program offering musical workouts and enrichment activities for piano students of many ages and skill levels.
We felt that extracting the keyboard theory sections, Foundations, from Personal Trainer might serve the needs of certain players primarily interested in reinforcing their understanding of basic theory and, above all, in strengthening their knowledge of the piano keyboard. The keyboard can serve as an excellent map for helping to understand basic elements of theory. The term "keyboard geography" is often used in this regard. Relating keyboard patterns to theory is fundamental to relating the cognitive to the kinesthetic—the mind to the body.
Materials are presented sequentially. "Fitness Challenges" provide the player with carefully constructed drills that can serve the purpose of developing and increasing skills as well as for evaluating progress. Each challenge has a MIDI accompaniment specifically designed for that activity.
One Plus One
14 Attractive Solos/Duets
by Paul Sheftel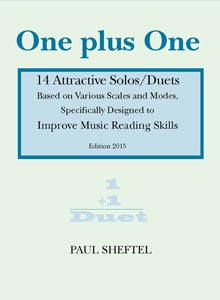 One plus One consists of 14 solo pieces (Part I) with optional accompaniments (Part II). Each piece is based on a different scale or mode. The solo pieces can be played independently or with the accompaniment, which can be played on the same keyboard. Part I (solo) appears on either the right- or left-hand page, depending on how the players are to be seated at one keyboard. The accompaniments can be played by the teacher or by another student. Some players may also enjoy working with a cassette recorder: The teacher or student can record Part II so that the other player can play Part I with the recording.
These pieces are suitable for students of different ages and at different levels of advancement. Notes provide suggestions for practice, background material on the scales and modes on which the pieces are based and ideas for creative activities. A table of scales and modes appears at the end of the book.
Duet Yourself
by Paul Sheftel (MIDI files are free with the purchase of this title, and sent separately)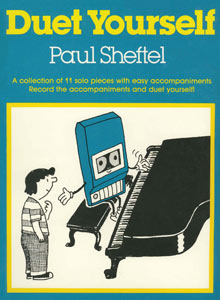 Duet Yourself is a collection of eleven solo pieces and their accompaniments, which consist of fairly simple repetitive patterns. To play a duet, simply record the accompaniment to play along with the melody. The music has been written so that the pieces can even be played on one keyboard by two people. Study notes, hand positions, and finger and rhythm drills are provided.
Twenty Eight-Measure Etudes
by Carl Czerny; with accompaniments for second piano or MIDI player by Paul Sheftel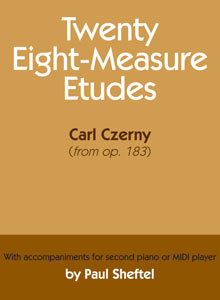 The soloist in the premiere performance in Vienna of Beethoven's monumental Emperor Concerto, Carl Czerny, was a prolific composer but is today only remembered for the exercises and etudes that he composed for piano students. He studied under such masters as Muzio Clementi, Johann Nepomuk Hummel, Antonio Salieri, and Ludwig van Beethoven.
Now one does not always love Czerny studies, for they can be rather long and repetitive—and taxing. However, early in my training I came to understand the value of such study. During that early training I worked exclusively in a volume entitled 160 Eight-Measure Exercises (op. 183). This was a wise choice on the part of my mentor because these particular etudes are short and succinct—and absolutely charming and beautiful. From that collection of 160 etudes I have chosen twenty of my special favorites.
The road to developing technical skill involves a considerable amount of repetition. It can be lonely and a bit wearisome. With this in mind, I have added a second piano part for each of the twenty studies. A teacher or another student may play these on a second piano or you make use of the MIDI files that you can easily obtain.
—Paul Sheftel
Professor Sheftel is a member of the faculty of The Juilliard School. He has served on the faculties of the Mannes College of Music, The Manhattan School of Music, and Hunter College.
Paul Sheftel has performed in most of the capitols of Europe and throughout the United States. In New York City alone he has performed in most of the noted performing venues including Carnegie Hall, Alice Tully, Town, and Merkin Concert Halls.
Modules: 2010 Edition
by Paul Sheftel (MIDI files are free with the purchase of this title, and sent separately)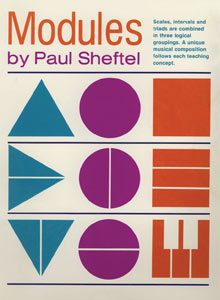 Noted pianist and Julliard professor, Paul Sheftel, asks, "When learning to play a C chord, why not also learn F and G chords, since they all use only white keys?"
The three modules are all about groupings that concentrate on the 12 major scales, their perfect, major and minor intervals, and the 12 major triads in root position and first and second inversions. These are all studied in logical groupings. There is a specific musical composition for each scale, chord and interval.
Preludes, Interludes, and a Postlude: 2010 Edition
Studies in Styles for Piano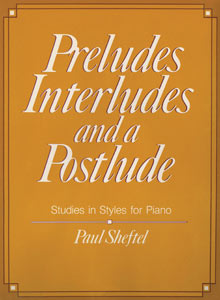 Sound accomplished with ease.
"My thought, as I composed these pieces, was 'keyboard recreation'. Ideally, I wanted to write pieces which would sound hard without being so. I have tried, in the Study Notes, to outline the approaches to learning each piece which worked best."
—Paul Sheftel
A Singer's Manual of Foreign Language Dictions
Sixth Edition, Updated 2012
by Richard F. Sheil, Ph.D.
Chapter entitled Russian Diction by Christine Walters McMasters, M.M.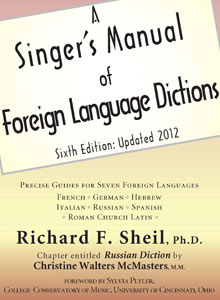 Professor Richard Sheil lays out the fundamentals for singing accurately and clearly in the crucial languages for singers: Roman Church Latin, French, German, Hebrew, Italian, Spanish, and Russian.
Emeritus professor of music in the State University of New York, Richard F. Sheil guides students, singers and anyone who wishes to sing properly in a foreign language through an education of the highest degree. His writing is clear and lively. His comprehensive text will be an indispensable tool for every singer from established professionals to voice majors to those who want to sing in church on Sunday morning. A lesson from Professor Sheil will revitalize your expression of all these languages.
Review copies provided without cost to academics and professionals. Please provide academic or association affiliation by email to info@ybkpublishers.com with request.
Click here to read a sample from this book (NOTE: You must have Adobe Acrobat Reader to view the sample pages).
Click here to view the Table of Contents.